FINALLY! KIDS TOOTHPASTE THAT IS BOTH NATURAL AND EFFECTIVE, CONTAINING KEY INGREDIENTS FOR A STRONGER, WHITER, AND HEALTHIER SMILE!
KIDS WILL LOVE TEETH BRUSHING TIME!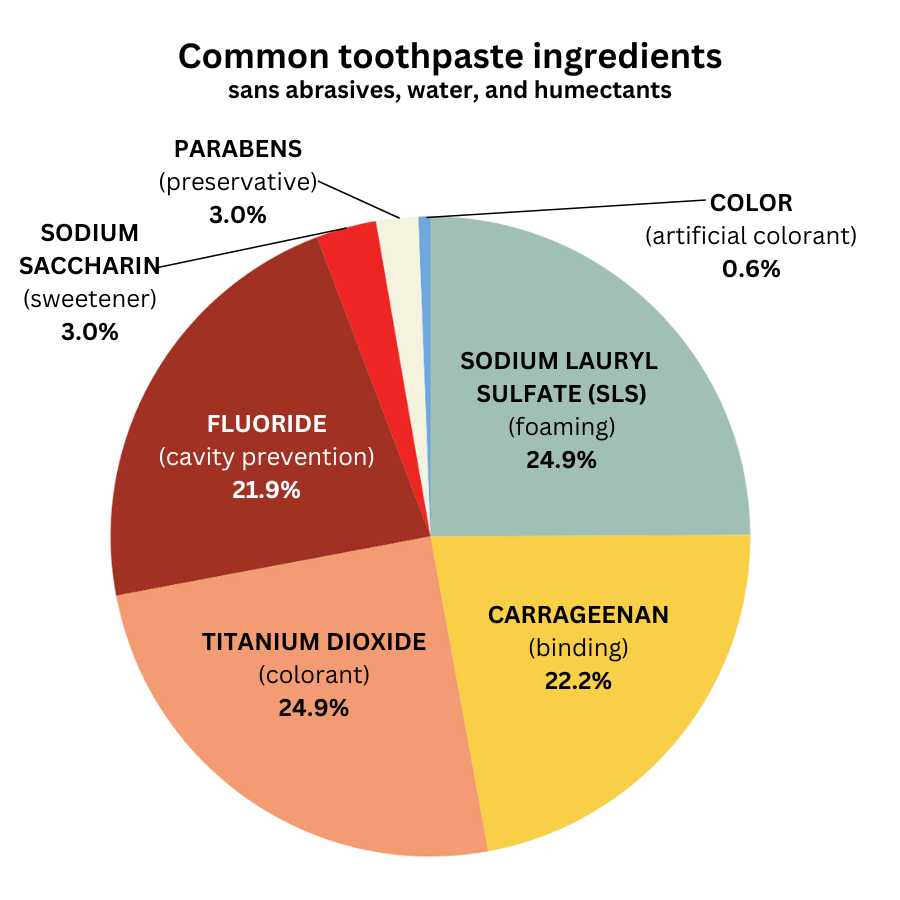 Kids NEED better toothpaste
According to dentists across the country, over 85% of toothpaste includes chemicals, preservatives, and toxic ingredients. Giving these ingredients to kids to put in their mouths - and often swallow - is not ideal.
"There are great natural ingredients and minerals that are safe and just as effective." -said Dr. Tyler Hanks.
Studies and debates continue for these ingredients. Fluoride, for example, is proven to strengthen teeth but is toxic in large quantities. Possible side effects from these ingredients range from minor to major:
•irritation
•inflammation
•ulcers
•and much more
No More Fighting Kids to Brush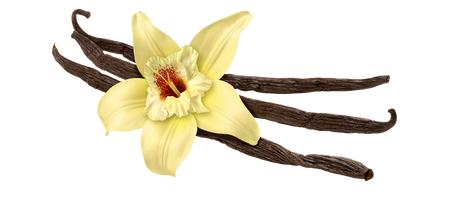 TASTY AND TOUGH INGREDIENTS
Our vanilla frosting flavor comes from natural vanilla extract that tastes great AND supports great oral care. Plus natural ingredients and a powerful mineral, hydroxyapatite, to fight cavities and whiten teeth.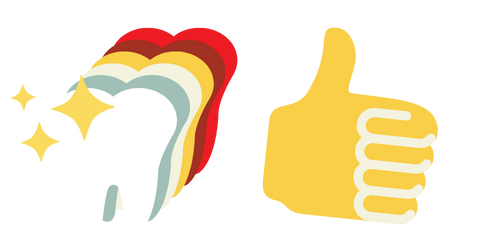 KID & PARENT APPROVED!
Finally a flavor that gets kids excited to brush their teeth every morning and night - and ingredients that are effective and safe to swallow.
HYDROXYAPATITE: STRONGER, WHITER, HEALTHIER

Hydroxyapatite is one of the most studied biomaterials in the medical field. 97% of your teeth's enamel are made of it. Backed by multiple studies, hydroxyapatite is proven to remineralize, strengthen, and whiten tooth enamel as effectively as fluoride and it's 100% safe. Plus, it's non-toxic, microbiome friendly, and biocompatible. Read the full study here.
FOUR POWERFUL BENEFITS
Safe for Kids & They Love It!

Natural and safe for kiddos if swallowed. Formulated by pediatric dentists and made in the USA. No more fighting at bed time!

Stronger & Whiter

Hydroxyapatite remineralizes, strengthens and whiten while xylitol and erythritol sweeten and take care of bad bacteria.

For the Whole Family!

Our toothpaste is safe from first tooth. With Fresh Mint and Vanilla Frosting, there's something for kids and adults.

Healthy Oral Microbiome

Regular toothpaste has ingredients that can kill good bacteria in your mouth. Yes, your mouth has good bacteria! We want to protect it.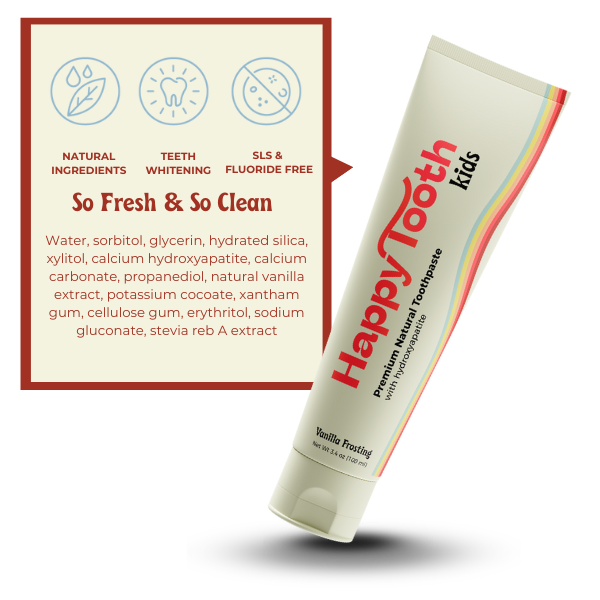 THE Natural Whitening Toothpaste
NATURAL INGREDIENTS | WHITENING

SLS & FLUORIDE FREE | SAFE TO EAT

HYDROXYAPATITE | ADULTS & KIDS

FRESH MINT & VANILLA FROSTING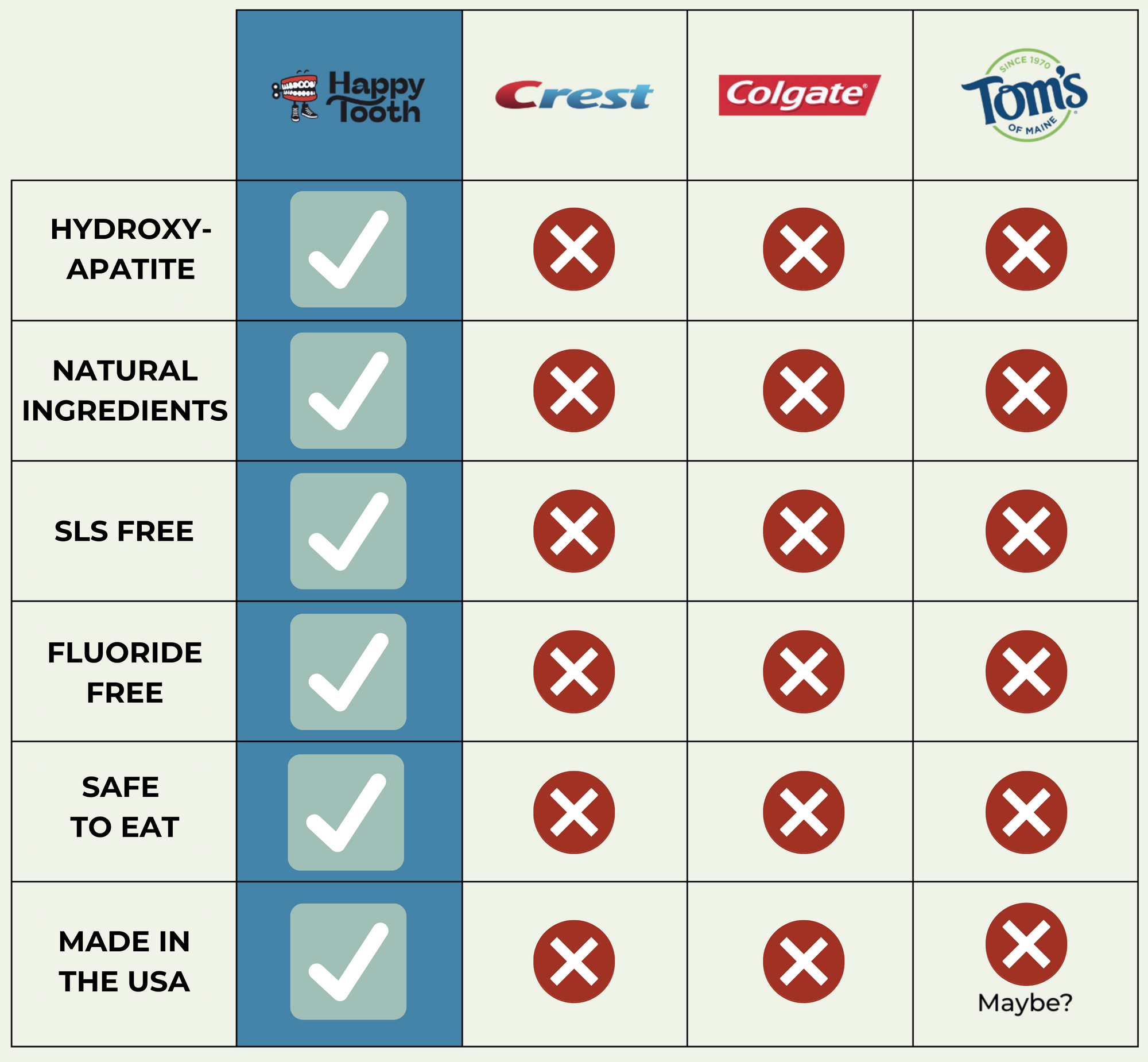 How Happy Tooth Stacks Up
In Japan, hydroxyapatite has been the gold standard for toothpaste for over 30 years. Meanwhile in the US, toothpaste hasn't evolved at all. Happy Tooth is the new gold standard.
Beware of the Drawbacks of Other Natural Toothpaste
Not all natural toothpastes are the same. Many toothpaste brands profess natural and include ingredients that are questionable at best.
Others are definitely all natural, but don't include hydroxyapatite or other ingredients that actually strengthen or whiten. In this case, it's about as effective as brushing with water.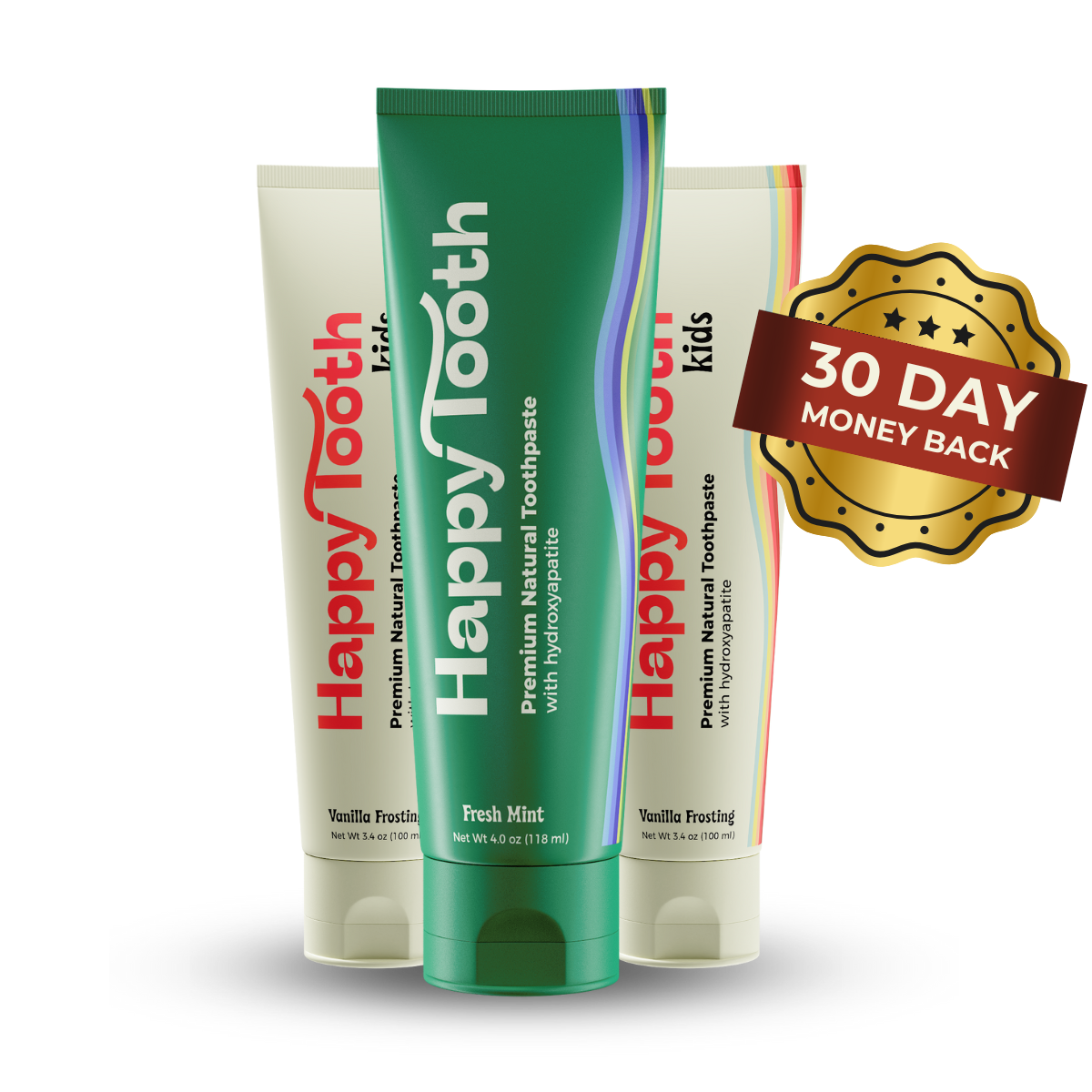 Our Happy Promise
We'll refund your money even if you send us back an empty tube!

Order now with confidence! If for any reason you don't think Happy Tooth is for you, we offer a 30-day money back guarantee. So if you don't love it, you can get your money back.
GET YOURS TODAY
1 TUBE

⭐️⭐️⭐️⭐️⭐️ 4.9 stars

$̶1̶2̶.̶0̶0̶
$10.80

Subscription Shipping

3-PACK
+ FREE E-BRUSH

FREE ELECTRIC TOOTHBRUSH

⭐️⭐️⭐️⭐️⭐️ 4.9 stars

$̶5̶5̶.̶0̶0̶
$36.00

VIP Shipping:
Same-day shipping
2-4 days


6-PACK

⭐️⭐️⭐️⭐️⭐️ 4.9 stars

$̶7̶7̶.̶0̶0̶
$65.00

+ FREE VIP SHIPPING:
Same-day shipping
2-4 days


Our Raving Fans Agree!
"We really enjoy the toothpaste that comes with a natural ingredients. Even as a mom, I've used and noticed a difference! I am a coffee drinker and I've seen my teeth get whiter so I love it and so does my family! "

"My kids love this toothpaste! It seems like it's made my 7 year olds teeth whiter & I like knowing it's better ingredients."

"YES! Natural ingredient. Less of a fight for teeth brushing time. My child doesn't fight it and looks forward to "cupcake time". "

"My kids are HYPED on brushing their teeth now because they love the flavor of the toothpaste. So hyped that we had to hide it."

"Literally the only toothpaste my kids will use. They even like brushing their teeth. We order on subscription and get it delivered every month. GAME CHANGER! "